Let's be brutally honest: the Tories have no policies, no ideas and no clue. They believe they have a divine right to rule (rather than govern). For them, the General Election is all about Brexit, or so they'd have you believe. Yesterday on Twitter, the Tories posted a video, which they had edited to make it appear as if Labour's Shadow Brexit Secretary was stuck for words to a question posed to him by Piers Morgan on Good Morning Britain.
Johnny Mercer who, in spite of his expensive education, isn't particularly bright, as his use of the word 'inexplicably' reliably informs us. There's an explanation for this video, but it's not one that he'd readily admit to. At the time of writing, the video clip is still up on Twitter and is being retweeted. On today's edition of Good Morning Britain, Conservative Party chairman, James 'Clown Shoes' Cleverly, was asked about it. His reply is predictable.
'We needed to shorten the video' he says but he doesn't offer a credible reason why he had to edit it. The real reason, and it's not one that Cleverly would willingly admit to, is that he wanted to make Kier Starmer look stupid. He even tried to pass it off as 'satire', which is what Tories and alt-rightists do every time they're caught out. Tories actually hate satire, because it punches up rather than down. The BBC's cancellation of That Was The Week That Was in 1963 after pressure brought about by the Home government stands as a testament.
Today's Daily Telegraph's screaming front page reproduces part of Boris Johnson's hyperbolic article contained within it pages, in which he compares Jeremy Corbyn to Joseph Stalin.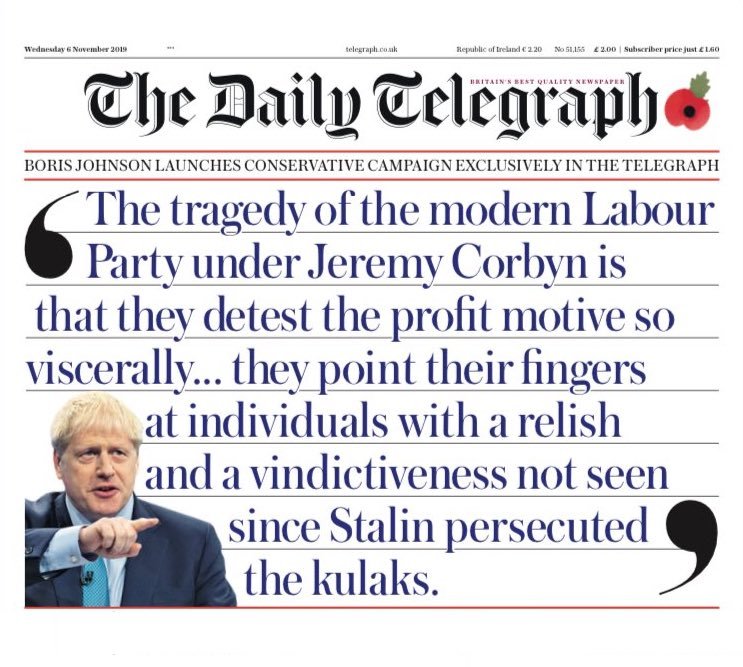 Johnson's article ignores such things as history and facts to push a pretty bad piece of hyperbole. If Corbyn was anything like Stalin, we'd all be dead now, Johnson included. What Johnson appears to be defending is greed and no doubt the article, which is hidden behind a paywall, repeats the dishonest phrase 'wealth creators' several times but to compare Britain's greediest to the kulaks is beyond hyperbole: it's risible melodrama worthy of Norma Desmond in Sunset Boulevard and, in typical Johnson fashion, it also plays fast and loose with the truth.
Yesterday on right-wing talk station, LBC, Jacob Rees Mogg told listeners that those who perished in the Grenfell Tower fire "lacked common sense" to leave the burning building. He was supported by Andrew Bridgen, who in an interview with Poll Tax architect, Evan Davis, on Radio 4's PM, told listeners:
"But we want very clever people running the country, don't we Evan?" "That's a byproduct of what Jacob is and that's why he is in a position of authority." This is just another way of saying "bourgeois social conditioning produces children with superior intellects". In this unguarded moment, Bridgen's mask slipped to reveal the eugenicist underneath. This morning he tried to be contrite, but Twitter wasn't having any of it.
Paul on Books had this to say:
James Felton told him:
Not wishing to be outdone by any of her colleagues, the terminally stupid, Nadine Dorries, went for the old "Corbyn is a threat to our national security" angle, while retweeting an article which purported to carry the words of former Foreign Secretary and warmonger, Jack Straw (also hidden behind a paywall). For Dorries, this was definitive proof that Corbyn was dangerous, despite having a security clearance and being a Privy Councillor. Of course, when it comes to lies, the Tories have a fatal attraction.
Jack Straw? Much respected? Not by this author and not by those who opposed the wasteful and catastrophic war in Iraq.
It's officially the first day of the General Election campaign and already the Tories are making a mess of it – just like they did last time.