Tony Blair has become a knight of the realm and for many of his followers, it was a long time coming; a moment of pure joy. The same people have misremembered the New Labour years and if you ask them what the party achieved under Blair in the 10 years he was in power, they can only come up with three things. The first is "he won three elections". The second is "Sure Start Centres" and the third is "he beat the Tories". Those of us with clear memories of the period remember Nu Labour for not only rushing into an ill-advised war in Iraq (Blairites brush this aside), but failing to respond adequately to Michael Howard's racist dog-whistling in the 2005 General Election campaign.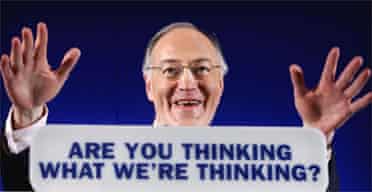 If you remind Blair's supporters of his inadequate response to Howard's racism, watch how quickly their eyes glaze over. Yet, it was this lack of a response from him and his ministers that opened up a space for far-right discourses on identity, nationality and citizenship to thrive. Those discourses have now become mainstream and can be heard on a daily basis on talk radio stations and on the BBC. It's also worth remembering that, two years after the 2005 General Election, Nigel Farage was elected leader of UKIP.
However, a year earlier, the then Home Secretary, David Blunkett. put forward a bill to cut benefit payments to 'asylum seekers' and curb their appeal rights. Far from being a left-wing government, Nu Labour actually adopted the immigration policies of the Tories, if not the far-right. The Guardian said:
The vote preceded publication today of a report by the Institute of Public Policy Research by Alice Bloch of City University, London.

She argues that the current ban on work deprives the British economy of much needed skilled labour and contributes to the perception of asylum seekers as "undeserving" benefit claimants. Lengthy periods of forced unemployment which accompany an application for asylum make it harder to find work and integrate when finally granted refugee status.
And
Dispersing asylum seekers around the country contributes to the problem, as they are frequently sent to areas of high unemployment and separated from the "informal networks that have historically been so important in terms of job seeking and employment within refugee communities".

Meanwhile, a lottery funding body was severely criticised yesterday by the Commons public accounts committee for giving cash to an asylum group that attacked Mr Blunkett for "colluding with fascism". The MPs said that the Community Fund handed more than £336,000 to the National Coalition of Anti-Deportation Campaigns without properly monitoring what the group was promoting. The group took a "political and doctrinaire stance".
1998, Nu Labour introduced detention centres for 'asylum seekers' and as Rachel Shabi points out in this Guardian article, 3% of the public cited immigration as a burning issue. The 1998 Asylum Act was followed in 2002 by the Nationality, Immigration and Asylum Act. Indeed, it is reasonable to argue that these measures were taken after a series of outlandish claims in the right-wing press. Shabi again:
By the time Labour came to power in 1997, newspapers were routinely scaremongering about the new arrivals: that year the Daily Mail ran a story about a "flood of bogus asylum-seekers swamping Dover" while the Independent warned: "Gypsies invade Dover hoping for a handout." The actual numbers were tiny. There were 32,500 overall asylum claims in 1997, with 81% refused asylum. In the decade to 2000, the UK accepted 1.9% of asylum claims from Sri Lanka; in France that figure was 73.6%.
It wasn't just immigration where Nu Labour aped the Tories, the language of government ministers like Blunkett, Straw and Reid contributed to an upsurge in racially motivated violence and police harassment of Black people. as well as an increase in Islamophobia.
New Labour also failed to address structural inequalities and this resulted in a growing divide between rich and poor. Under Blair, Labour failed to reverse Thatcher's disastrous Right To Buy, which continued throughout the 13 years the party was in government.
Workfare and the cruel Work Capability Assessments had their genesis in the second Blair ministry and were fully implemented when Gordon Brown assumed the leadership.
Sure Start Centres were great, but if that's all Blairites and Labour right-wingers can offer in his defence, then it's thin gruel. Sure Start Centres had their funding systematically cut when the Tories took power with the help of the Lib Dems in 2010.
Blair's supporters have nothing to crow about.