I've told this story many times on Twitter and Facebook, but it needs to be repeated here. Lisa Nandy, the Labour MP for Wigan, is the broadcast media's pet faux lefty. She often appears on television programmes like ITV's godawful Peston and rocks up on the BBC's Politics Live and Question Time. Sometimes, she's mentioned as the media's pick to replace Jeremy Corbyn as leader of the Labour Party, along with self-publicists like Jess Phillips (far and away the right-wing media's choice) and dull careerists like Yvette Cooper. But Nandy's supposedly left-wing credentials are moot at best. She makes some nice noises but beyond that, I believe her grasp of left-wing politics to be weak. It certainly lacks class analysis.
It was the 2005 General Election when I met Nandy. In those days, she was a councillor for the Hammersmith Broadway ward on what was then the Tory-controlled Hammersmith and Fulham Council. The Iraq War was still raging and millions of voters were starting to turn their backs on Labour. Worse, the party, rather than challenge the dog-whistle racism of Michael Howard's election campaign (Directed by Lynton Crosby. Who else?), constructed its own anti-immigrant rhetoric, and it is that failure to meet Howard's racist campaign with a head-on rational argument in favour of immigration, which gave the far-right space to thrive. We are in this place because of Blair and New Labour was very much a racist endeavour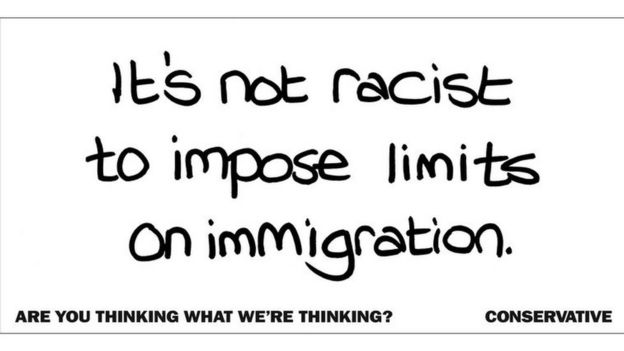 Like those millions of voters who had turned away from the Labour, I felt let down by the party. Nandy, who was canvassing on behalf of the Labour candidate, Melanie Smallman, herself a member of Progress and a Blairite, turned up on my doorstep after climbing the seven flights of steps up to my flat. She asked me if I was going to vote Labour in the election. I told her "No" and added that I'd been let down by Blair's rush to invade Iraq on a faulty premise, to which she appeared to nod in agreement. I then finished by telling her that I was a socialist and at that point she turned around and headed back down the stairs. I'd never seen anyone move so fast upon hearing the word "socialist".
Yesterday, Nandy donned her hair shirt, grabbed her sword and joined Wes Streeting, Margaret Hodge et al aboard the passing anti-Semitism witch-hunt bandwagon with this ill-considered tweet, in which she appears to suck up the accusers and accept their baseless allegations at face value.
My reply to her was to the point.
Somehow, I don't think Nandy will deign to reply.